Back to all posts
Posted on
Parks Amenities Closed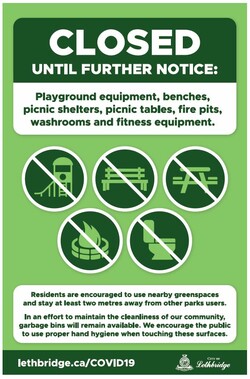 UPDATE: We've had lots of questions about other outdoor activities like basketball, skateboarding and soccer.
Activities like 1-on-1 basketball, soccer, frisbee or throwing a ball is still permitted with members of your household if you maintain proper social distancing. Skateboard parks have multiple touchpoints and are now closed.
-------------------------------
In an effort to limit exposure and reduce the spread of COVID-19, the following parks amenities are closed until further notice:
• playground equipment
• benches
• picnic shelters
• picnic tables
• fire pits
• washrooms
• fitness equipment
• skateboard parks
Residents are encouraged to use nearby paths and greenspaces while staying at least two metres away from other parks users. If a path or greenspace is busy, please move to a different area.
In an effort to maintain the cleanliness of our community, garbage bins will remain available. We encourage the public to use proper hand hygiene when touching these surfaces.
More information can be found on the City of Lethbridge Website.