Back to all posts
Posted on
Last day of classes throughout Division set for June 19, 2020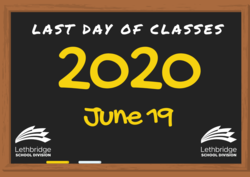 The last day of classes throughout Lethbridge School Division will be Friday, June 19, 2020.
This applies to the elementary, middle and high school levels. June 19 will also represent the last day of official programming for Early Education Programs in the Division.
REMINDER: There will be no delivery of learning-at-home programming on Monday, May 18 (Victoria Day holiday) or on Tuesday, May 19 (School-based Professional Learning Day).