Back to all posts
Posted on
ICE STORM - A Winter Showcase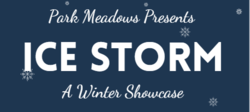 It is with great pleasure that the staff and students at Park Meadows School present  "ICE STORM - A Winter Showcase" on December 8th! 
Students will be performing many different talents at the show. However, our gymnasium is small, and we don't want you to miss a thing. We are going to be doing three shows, so that everyone can have a chance to attend. 
At 2:30pm, there is a show for other family members. (Extended family, grandparents, aunts and uncles, etc...)
At 6:00pm, families with last names starting with A--M can attend.
At 7:00pm, families with last names starting with N--Z can attend.
Please note: 
We will still only be able to have two members from each family at our 6pm and 7pm shows. Doors will open to families 15 minutes prior to the start of each show. 
Kindergarten students will only present at 6pm, and NOT 7pm.
Grades 1-5 will present at all shows.
The show has an estimated runtime of 30-35 minutes.
Evening Schedule: 
5:45pm: All students arrive and go to their classrooms.
6:00pm: All Kindergarten families AND families with last names A--M are welcome to attend. 
7:00pm: Families with last names N--Z are welcome to attend.
7:40pm: Pick up your child in their homeroom classroom
**At the end of the evening, please pick your child/ren up in their homeroom classrooms.
Attire
Kinder: Dress fancy (dresses, collared shirts and pants, bow tie or tie)
Grade 1: Dress fancy (same as above)
Grade 2: Hip Hop attire (Black shirt or hoodie, comfortable pants, covered shoes)
Grade 3: Rock & Roll Attire (jeans, tee shirt with sleeves rolled up, leather/jean jacket. Look cool)
Grade 4: Pyjamas
Grade 5 (Wear black. A Santa hat will be provided, but feel free to wear your own)
Thank you for your consistent support. We truly appreciate you and can't wait to see you on December 8th at your assigned time.