Back to all posts
Posted on
Teri Smith appointed acting principal for Park Meadows Elementary School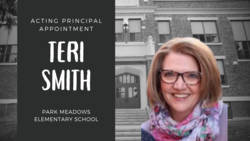 Lethbridge School Division is pleased to announce Teri Smith has been appointed acting principal for Park Meadows Elementary School, commencing the 2021/2022 school year.
Smith is known to be an exemplary educator who possesses the breadth of experience and depth of knowledge to support students and staff as the school leader. Teri believes that an important objective for leaders is to foster and facilitate a learning environment that inspires innovation, critical thinking and a creative spirit.
A student-centered leader, Smith is known to go above and beyond to meet student and family needs. She is a strong believer in collaboration as well as distributed leadership, recognizing that it takes a collective effort to meet the diverse demands in the school context. At the top of her list, Smith considers relationship building foundational for ongoing school improvement, growth, and learning. Her organizational skills are beyond compare, and she walks the talk with respect to open and transparent  communication.
"I am honoured to have the opportunity to work with the staff and students at Park Meadows
Elementary School," said Smith. "I look forward to being part of the School community and am committed to supporting the ongoing learning of all students. I am excited to build school and community relationships and to become part of the collaborative team at Park Meadows Elementary School. I look forward to working with a team committed to achievement, inclusion and innovation."
Smith began her career as a middle school teacher where she taught a breadth of subjects across the
different grades. She came to Lethbridge School Division in 2014 as an elementary teacher at Galbraith.
Her leadership experience includes the role of vice-principal at Westminster Elementary School and currently the role of vice-principal at École Nicholas Sheran. She also has experience as the Learning Support Teacher in two schools. Teri was a lead assessment specialist in a different school district where she spent considerable time building the capacity of teachers in the area of assessment practices.
Smith completed a Bachelor of Arts and Bachelor of Education at the University of Lethbridge. She earned her Masters of Education in Educational Leadership at the University of Lethbridge in 2011.