Back to all posts
Posted on
Pivot Point Information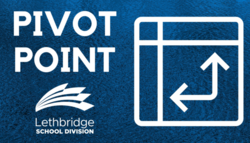 The Pivot Point form is available on the Lethbridge School Division website. The form is to be filled out ONLY by parents who wish to request a change in the learning model their children are currently engaged in (in-school learning or at-home learning).
The form will remain on the website until 11 p.m. on Wednesday, Oct. 21.
For students requesting a change, the transition to their new learning model will take place from Tuesday, Nov. 10 to Friday, Nov. 13. On Monday, Nov. 16, classes will begin for students that requested a change.
The Request for Change – Pivot Point 1 form is located on the front page of the Division website at www.lethsd.ab.ca